FAQs for buying your luxury watch
Everything about the seller
How do I see if the online shop is trustworthy?
Adjusters for trustworthiness are reviews from customers. Ratings are collected from Google, Ebay, Chrono24.
Another plus is if the online shop is a Trusted Shop. Trusted Shops costs the shop operator money and imposes conditions on the shop - both during initial qualification - and at regular intervals.
Are checked:
Identity & Accessibility
Security & Privacy
Revocation & Return
Products & Costs
Order & Transparency
Service & shopping experience means a positive customer experience - ie the shop must be rated at least 3.0 by the customers.
Another important criterion is that a responsible person/owner is named in the imprint of the shop, which you can also google. A landline phone number and/or a shop are also to be rated positively.
Everything about shipping & returns
How is the luxury watch shipped? And how much is shipping?
We will send your watch insured and by express. Shipping in Germany is free of charge for you. We ship "overnight" in Germany. In our delivery times, we give 3-5 working days - always depending on the form of payment.
We have had good experiences with our delivery services "UPS/Fedex/Parcel Broker". We have been working with the shipping companies for over 15 years.
You will receive a tracking number from us via e-mail, which will show you where your watch is.
We refuse to work with DHL, Hermes or DPD, as these watches do not insure. More information at watches24.com/delivery times .
What are the delivery times?
We deliver quickly if the interaction "Payment -> Shipping" works. In our shop we speak of a delivery of 3-5 working days throughout Germany and 5-7 working days for other countries.
More information watches24.com/delivery-times-shipping
Can I return the watch I bought online?
Watches that you bought from us in the shop enjoy a 14-day right of return. Provided that you handle the watch with care - i.e. the watch has no signs of wear or the bracelet is sweaty/damaged.
You can find out how to revoke this at the following link watches24.com/widerruf .
One last request: do not send the watch back to us freight collect!
Breitling's classic watches
Breitling Navitimer and Cosmonaute
The Breitling Navitimer was first introduced in 1952 and has since been considered one of the most legendary watches in the history of pilot watches. Its distinctive feature is the integrated slide rule, which allowed pilots to quickly calculate navigation data such as fuel consumption, climb and sink rates, average speeds and more. The curved watch glass made the results easy to read.

The design of the original Navitimer featured a black dial with black chronographs and a mother-of-pearl bezel that optimized the watch's handling and grip. Shortly after its introduction, the Navitimer achieved cult status in aviation and was named the official watch of the Aircraft Owners and Pilots Association (AOPA). The AOPA logo adorned the dials of the first Navitimer models (Ref. 806) and underlined the close connection between Breitling and the pilots.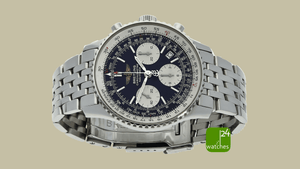 The history of the Breitling Navitimer also extends into space. In 1962, a special version, the "Cosmonaute", accompanied astronaut Scott Carpenter into space on his Mercury-Atlas 7 mission. This clock featured a 24-hour dial, which helped Carpenter distinguish day from night in space. This special model was later mass-produced as the Breitling Navitimer Cosmonaute.

Carpenter's original Navitimer Cosmonaute survives to this day, although it was damaged by salt water during rescue capsule recovery in the North Atlantic. To mark the 60th anniversary of the Mercury Atlas 7 mission in 2022, Breitling released a special edition of the Breitling Navitimer Cosmonaute, limited to just 362 pieces.
Breitling Avenger Blackbird
Breitling's emblem, a winged anchor, symbolizes the company's expertise in aviation and maritime. This expertise is reflected in the Avenger watch collection, known for durability, functionality and precision. The Avenger watches belong to Breitling's Aeromarine family, which is characterized by high water resistance and appeals to swimmers, divers and lovers of waterproof watches.

The revamped Avenger collection, known as Avenger 2 or Avenger II, was unveiled at Baselworld in 2013. These watches are water resistant up to 300 meters and offer an impressive power reserve of 40 to 55 hours.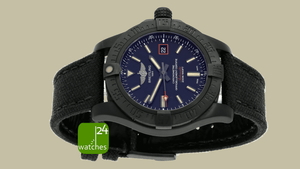 The collection includes not only chronographs such as the Avenger II (Ref. A1338111) and the Super Avenger II (Ref. A1337111), but also second time zone watches and professional diving watches such as the Avenger II GMT (Ref. A3239011) and the Avenger II Seawolf (Ref. A1733110). These Avenger II chronometers are versatile and offer outstanding performance in any environment.

The Avenger I models are still popular, especially the robust Avenger Titanium (Ref. E13360) with a titanium case and the Avenger Skyland Black-Steel (Ref. M13380) in a blackened design. Since Breitling has stopped producing these models, they are available on the used market. There is also already a wide selection on the used market for the younger Avenger II line.
Breitling Superocean
Breitling's characteristic company logo, a winged anchor, symbolizes the Swiss manufacturer's close relationship with the world of water. In 1957, Breitling made a breakthrough in diving watches when the manufacturer introduced a water-resistant watch up to 200 meters - the birth of the Breitling Superocean. This level of water resistance was groundbreaking at the time and cemented Breitling's reputation as a manufacturer of reliable and robust diving watches.

The Superocean is now a flagship of the Breitling Aeromarine diving watch family and continues to delight divers and watch lovers. The current collection offers a wide range of colors and sizes, while vintage enthusiasts appreciate the classic models. Breitling has introduced numerous special editions and reinterpretations over the years, so the selection of new or pre-owned Superocean watches has something to suit every taste.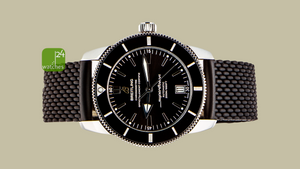 The current Breitling Superocean is characterized by a sporty, elegant design with subtle color accents. There are five different models to choose from: Superocean 42, Superocean 44, Superocean Chronograph II, Superocean Chronograph M2000 and Superocean Chronograph Steelfish. The Superocean 42 (Ref. A1736402) with its 42 millimeter case and clear dial with italic hour numerals is particularly popular with lovers of simple dials. A striking flange in different colors frames the dial.
Breitling for Bentley
Breitling for Bentley embodies style, luxury and precision in an impressive combination. This Swiss watch collection combines elegant British design with Swiss precision.

The watches in the Breitling for Bentley collection are inspired by the design elements of Bentley automobiles and offer a unique look. Since its launch in 2003, the collection has produced a variety of sophisticated models and is now known for its diversity.
The collection includes sporty models such as the Bentley Motors and the Bentley Barnato as well as elegant and complex watches such as the Flying B and the Mark VI. These watches continue Breitling and Bentley's tradition of always offering the best.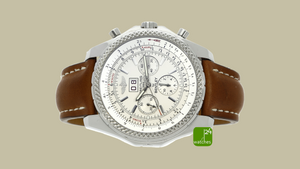 The collaboration between Breitling and Bentley began in 2002 when Breitling designed the on-board clock for the new Bentley Continental GT. The following year, Breitling accompanied the Bentley team in its victory at the 24 Hours of Le Mans. This led to the introduction of the Breitling for Bentley Motors chronograph (A25362) and laid the foundation for a successful partnership.

Today, David Beckham represents Breitling for Bentley, a symbol of British style and technical sophistication.
Breitling - the luxury brand of the skies
Léon Breitling , a son of German immigrants in Switzerland, became interested in short-time measurement early on in his watchmaking training.
In 1884, at the age of 24, he made the first counter-chronograph pocket watch. The Breitling brand was born. His son takes over the factory. He is enthusiastic about aviation.
In 1915, the first wrist chronograph with a central second hand and 30-minute counter was released. This was the watch for the pilots: a wrist instrument for measuring flight time and other calculations were possible here.
Even in the third generation, the fascination with flying remains unbroken. Breitling now produces over 40 different chronograph models and works closely with the Royal Airforce .
In 1979 - during the quartz crisis - the family business was sold to Ernest Schneider. He sticks to the sporty wrist chronographs. In the 1990s , the Breitling brand gained momentum again.
A special feature that distinguishes the watch brand Breitling is that all models have been chronometer certified since 1999 . Breitling is therefore the first and only watch manufacturer brand in the world to have all timepieces certified.
The company is currently led by Georges Kern - a former IWC manager .
Do you have questions? I am here for you!
Ottostr. 5 - near Stachus
80333 Munich
YOUR CONTACT ANDREAS HILDEBRAND
📞 +49 89 123 64 70
post@watches24.com - Emails are answered within a maximum of 24 hours - during the day usually within a short time.
Opening times shop
Mon - Fri, 12:00 p.m. to 6:00 p.m
Sat, by appointment
Sundays and public holidays closed
Telephone availability
from 09:00 to 21:00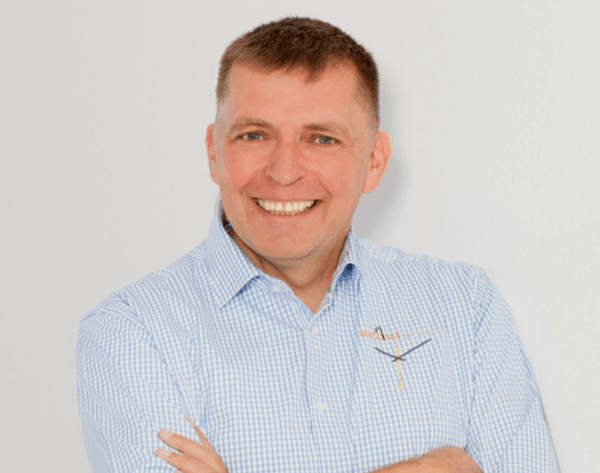 Why should I buy my watch from watches24.com?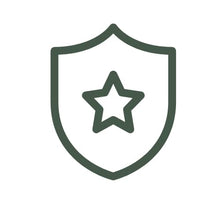 Tested originality
In addition to our expertise, each watch is checked for originality and rate behavior by an independent master watchmaker - four eyes see more than two.
Personal advice
I, Andreas Hildebrand, am YOUR contact - be it selling or buying watches or warranty claims. They are important to me!
Your purchase is secured
We have had our shop checked and certified by Trusted Shops . This means for you: Your purchase enjoys buyer protection!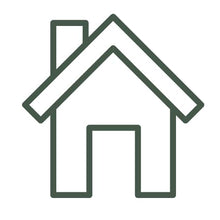 Local retail store
Since 2008 you can reach us personally in the heart of Munich - not far from the Stachus. Our customers appreciate the fixed opening hours. Here you can get an idea of​​our shop and the location.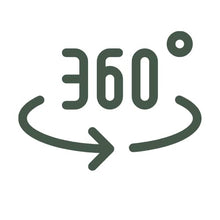 360 degree view
In order to be able to show you the condition of the used watches in detail - we have decided on the all-round view. We do not alter the images using computer programs. We attach great importance to our pictures.
What feedback do we get?
In short: fair, friendly, competent and professional