FAQs for buying your luxury watch
Everything about the seller
How do I see if the online shop is trustworthy?
Adjusters for trustworthiness are reviews from customers. Ratings are collected from Google, Ebay, Chrono24.
Another plus is if the online shop is a Trusted Shop. Trusted Shops costs the shop operator money and imposes conditions on the shop - both during initial qualification - and at regular intervals.
Are checked:
Identity & Accessibility
Security & Privacy
Revocation & Return
Products & Costs
Order & Transparency
Service & shopping experience means a positive customer experience - ie the shop must be rated at least 3.0 by the customers.
Another important criterion is that a responsible person/owner is named in the imprint of the shop, which you can also google. A landline phone number and/or a shop are also to be rated positively.
Everything about shipping & returns
How is the luxury watch shipped? And how much is shipping?
We will send your watch insured and by express. Shipping in Germany is free of charge for you. We ship "overnight" in Germany. In our delivery times, we give 3-5 working days - always depending on the form of payment.
We have had good experiences with our delivery services "UPS/Fedex/Parcel Broker". We have been working with the shipping companies for over 15 years.
You will receive a tracking number from us via e-mail, which will show you where your watch is.
We refuse to work with DHL, Hermes or DPD, as these watches do not insure. More information at watches24.com/delivery times .
What are the delivery times?
We deliver quickly if the interaction "Payment -> Shipping" works. In our shop we speak of a delivery of 3-5 working days throughout Germany and 5-7 working days for other countries.
More information watches24.com/delivery-times-shipping
Can I return the watch I bought online?
Watches that you bought from us in the shop enjoy a 14-day right of return. Provided that you handle the watch with care - i.e. the watch has no signs of wear or the bracelet is sweaty/damaged.
You can find out how to revoke this at the following link watches24.com/widerruf .
One last request: do not send the watch back to us freight collect!
The classic watches from Chronoswiss
Chronoswiss regulator
The Chronoswiss Régulateur is a remarkable chapter in the history of the watch brand. In 1987, just five years after Chronoswiss was founded, the brand presented the first model of the Régulateur. This watch broke with the traditional representation of time on dials and presented the hours, minutes and seconds on separate sub-dials. This innovative design paid homage to the traditional regulator clocks used by watchmakers to precisely adjust other clocks.

In 1990, Chronoswiss introduced the first series version of the Régulateur, which quickly gained recognition and enthusiasm among watch enthusiasts. The characteristic design of the Régulateur, with the hour display at 12 o'clock and the separate minutes and seconds display at 6 o'clock, became a trademark of Chronoswiss.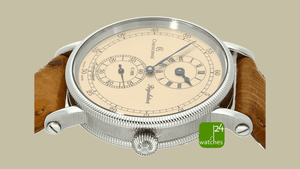 Over the years, Chronoswiss has released various models of the Régulateur, including limited editions and special models. The Régulateur became a symbol of precision and watchmaking and cemented Chronoswiss' reputation as a manufacturer of high-quality mechanical watches.

The Chronoswiss Régulateur remains a popular choice for watch collectors and lovers of classic regulator design. With its timeless elegance and focus on accurate timekeeping, the Régulateur remains an important watch in Chronoswiss history.
Chronoswiss Kairos Chronograph
The story of the Chronoswiss Kairos is a fascinating journey through time. In 1995, just a few years after Chronoswiss was founded, the Kairos collection was launched and immediately caused a stir in the watch world.
The Chronoswiss Kairos is characterized by its classic elegance and timeless design. The watch presents the hours, minutes and seconds on a clear dial with Roman numerals and elegant hands. This simple yet appealing appearance has made the Kairos a favorite for watch lovers who appreciate the beauty of traditional watchmaking.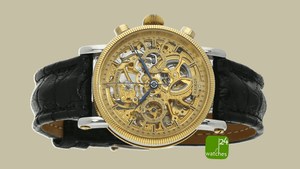 Over the years, Chronoswiss has continually expanded and improved the Kairos collection. New models with different complications and case materials were introduced to satisfy the diverse tastes of watch collectors. However, Kairos always remains true to its original concept, which celebrates time in its pure form.
Chronoswiss Delphis
The Chronoswiss Delphis is a remarkable watch that is attracting attention in the watch world. In 1994, this collection was launched and has since won the hearts of watch lovers.
The Delphis is characterized by its striking yet sophisticated design. The striking feature of this watch is the unconventional dial with its eccentrically arranged displays for hours and minutes. This unusual arrangement gives the Delphis a unique aesthetic and sets it apart from other watches.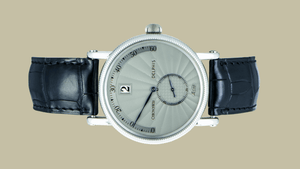 The watchmaking art of Chronoswiss is evident in every detail of the Delphis. The Roman numerals, hands and case are carefully designed and give the watch a touch of elegance and sophistication.
Over the years, Chronoswiss has expanded the Delphis collection to satisfy the diverse tastes of watch collectors. There are different models with different materials and finishes, but they all retain the original, unconventional design that makes the Delphis so unique.
Chronoswiss Timemaster
The Timemaster is characterized by its robust and sporty design that exudes a spirit of adventure and adventure. With its striking case and easy-to-read dials, the Timemaster is ready to take on any challenge. The exceptionally large crown makes it possible to use it even with gloves.
Chronoswiss has made no compromises when it comes to watchmaking with the Timemaster. Every detail, from the hands to the bezel, is precisely crafted and gives the watch an unmistakable personality.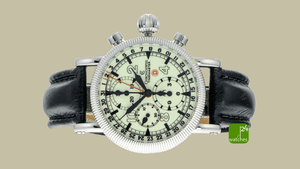 Over the years, Chronoswiss has evolved the Timemaster collection and introduced various models with different functions and materials. Whether chronographs, GMT watches or diving watches, the Timemaster always remains a symbol of precision and performance.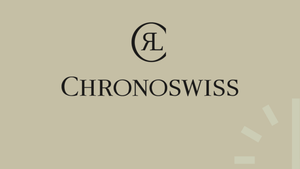 Chronoswiss - The German watch with the Swiss tick
The Chronoswiss story, although comparatively short, is nonetheless impressive. It is closely linked to the story of Gerd Rüdiger Lang, the "man with the tick". After training as a watchmaker, Lang began his career at Heuer (now TAG Heuer) in Switzerland in 1964. In 1969 he experienced first hand the development of the first automatic chronograph in collaboration with Breitling. This awakened his passion for wristwatches with a time stop function, of which he now collects over 700 chronographs.

In 1980, Heuer decided to close its German branch and Lang received an offer to take over service for the Swiss chronograph specialist. As a visionary, Lang decided to become self-employed. Since it was founded in Munich in 1982 by Gerd-Rüdiger Lang, the watch manufacturer known as Chronoswiss Munich since 1983 has stood for quality and taste. But the real passion lies in the unique inner workings of the watches, 95% of which were sourced from Switzerland by founding father Lang and therefore meet the highest standards. A distinctive feature of their watches is the onion crown, which can be found on all models, as well as the knurled bezel and screw-down bracelet bars. In 2012, Chronoswiss was taken over by the Swiss Ebstein family and the company headquarters were relocated from Munich to Lucerne.
Do you have questions? I am here for you!
Ottostr. 5 - near Stachus
80333 Munich
YOUR CONTACT ANDREAS HILDEBRAND
📞 +49 89 123 64 70
post@watches24.com - Emails are answered within a maximum of 24 hours - during the day usually within a short time.
Opening times shop
Mon - Fri, 12:00 p.m. to 6:00 p.m
Sat, by appointment
Sundays and public holidays closed
Telephone availability
from 09:00 to 21:00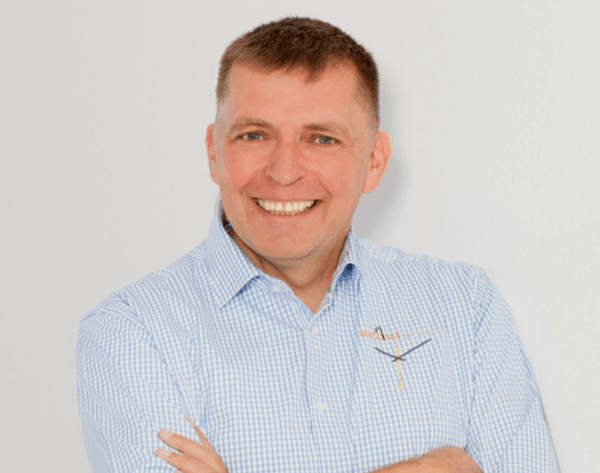 Why should I buy my watch from watches24.com?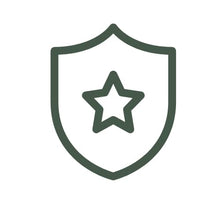 Tested originality
In addition to our expertise, each watch is checked for originality and rate behavior by an independent master watchmaker - four eyes see more than two.
Personal advice
I, Andreas Hildebrand, am YOUR contact - be it selling or buying watches or warranty claims. They are important to me!
Your purchase is secured
We have had our shop checked and certified by Trusted Shops . This means for you: Your purchase enjoys buyer protection!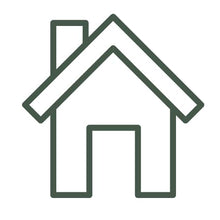 Local retail store
Since 2008 you can reach us personally in the heart of Munich - not far from the Stachus. Our customers appreciate the fixed opening hours. Here you can get an idea of​​our shop and the location.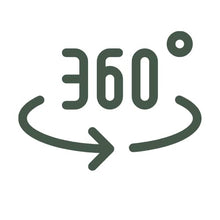 360 degree view
In order to be able to show you the condition of the used watches in detail - we have decided on the all-round view. We do not alter the images using computer programs. We attach great importance to our pictures.
What feedback do we get?
In short: fair, friendly, competent and professional